Declutter your Chrome extensions and manage them with ease
View all your installed Chrome extensions
Quickly enable or disable certain extensions
Group your extensions
Enable or disable your Chrome extension groups (E.g. enable group "shopping")

Integrated into Gmail No extra software!

Declutter your Chrome extensions and manage them with ease!
Fully Integrated With Your Chrome Browser
Extension Manager by cloudHQ works to make absolutely sure that you can access everything you need about an email contact right within your email's inbox. It works within Gmail and G Suite email domains, and installs within seconds. There's nothing to download or install on your hard drive. Once installed, you'll automatically see your email contact's social profile, and all past conversations you've had with them on the right hand side of your email.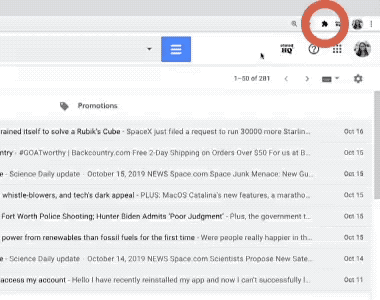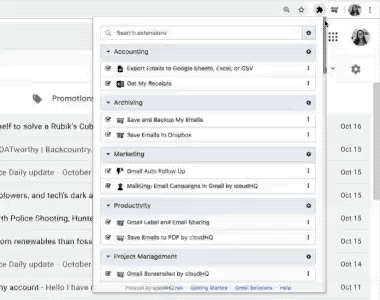 View All Your Installed Chrome Extensions
Having one place to view all of your Chrome extensions is key to managing them all. You might even find some old Chrome extensions that were installed and aren't being used. This handy Chrome extension manager will help you identify all of your currently installed Chrome extensions.
Quickly Enable or Disable Chrome extensions
You'll be able to quickly enable or disable any of your installed Chrome extensions. Sometimes, you might notice that an installed Chrome extension ruins your browser page that your trying to view, and you might want to disable it temporarily. Or you might not want extensions that are related to shopping activities always be enabled, unless you are shopping online. With a quick click of a button you'll be able to enable or disable any of the Chrome extensions you like.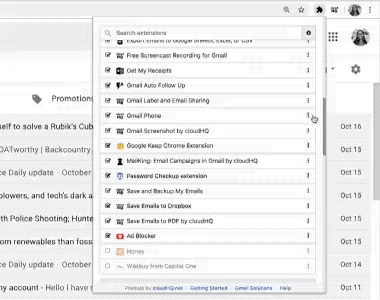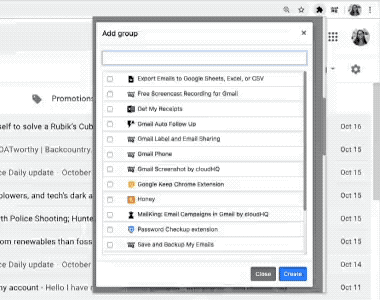 Group Your Extensions
You can also create a group for your Chrome extensions. We suggest three groups to start you off: shopping, productivity, and essentials. Our essentials are the ones we simply can't live without, where shopping and productivity groupings are fairly self-evident. Which groups will you create?
Quickly Enable or Disable Your Chrome Extension Groups
Once you've created groups for your Chrome extensions, you can enable or disable a whole group with just 1 click, giving you the ultimate management control over any of your installed Chrome extensions with a simple click—time saving and powerful use of your Chrome extension management time.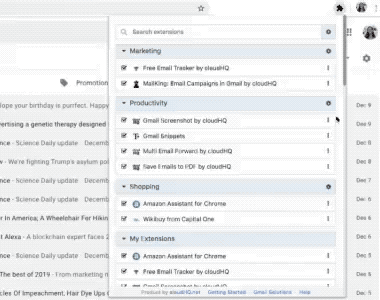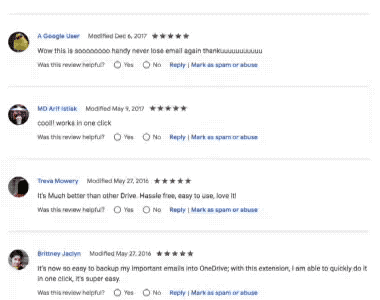 Near Universal 5-Star Ratings
Chrome Extension Manager by cloudHQ has almost universal 5-star reviews from users who have downloaded it in Chrome.
---
Who Uses Chrome Extension Manager by cloudHQ?
Productivity Masters
If you're a professional and enjoy saving time, you probably have at least a dozen Chrome extensions currently installed that can help you boost your productivity. Sometimes, you'll want to enable or disable those Chrome extensions so that you only use them when you need to. It makes your browser experience faster, and it's helpful to be able to get the tool you need in a split second. It also helps not to always have your extensions enabled because it often collects data about your online browser habits. *Note: Rest assured that ours do not, but we're aware that that others often do.


Online Shoppers
After downloading a variety of Chrome extensions to help you find coupons and discount codes for your favorite items, it's important to be able to enable them easily for when you're shopping. It's also a very secure idea to disable them when you're not shopping.
Grammar Correctors
If you use a grammar correcting Chrome extension, you'll find that sometimes it distorts certain pages during your browsing experience. When you don't need to use that extension, it's helpful to quickly disable it.